Eaton 9E 10KVA/8kW Online Tower UPS (9E10KI)
Online double conversion topology
Intuitive LCD panel display - get clear information about UPS status
More power (watts) to protect more equipment due to 0.8 power factor
Internal bypass & maintenance bypass as standard
XL models with internal supercharger for extra-long runtime
Communication via USB, RS232 serial or over the network
Input voltage range without using batteries: 176-276V
Efficiency: Up to 93% in Online mode, 97% in ECO mode
Overload capacity: 105%-110%: 5min, 110%-130%: 1min, 130%-150%: 10s
Slot for Network-MS, ModBusMS or Relay-MS cards
External battery module terminal block
Intelligent Power Software
Casters


Eaton 9E 10KVA/8kW Online Tower UPS (9E10KI)

Eaton is a global brand with a tradition of innovation and quality. Eaton UPS is a frontline brand that can be trusted for top-level performance and suitable for critical applications. The 10kVA (8kW-rated) Eaton 9E Online UPS (9E10KI) is one of the top choices for online UPS of 10kVA capacity.


Eaton 9E 10KVA/8kW Online UPS Offers Reliability and performance

The Eaton 9E constantly monitors power conditions and regulates voltage and frequency due to the online double conversion topology
With Eaton 9E 10KVA / 8kW Online UPS, you get to power more servers than with most similar UPSs due to a 0.8 power factor
With Eaton, you're trusting a leading manufacturer with decades of experience and high quality standards: CE compliance certified by external agency (CB report from the TUV)

Eaton's Manageability Advantage

Get clear information on the UPS' status and measurements (load level, battery level, input/output voltage and frequency) on a single screen with the new LCD interface
Easily communicate with the UPS through USB, RS232 serial or over the network with the optional network card (Network-MS). Relay cards or ModBus cards are also available.
Integrate 9E into all software environments. The Eaton 9E is delivered with Eaton's Intelligent Power™ Software and is compatible with all major OS including advanced integration in VMware vCenter and Microsoft Hyper-V.

Get Eaton Flexibility

The internal bypass allows service continuity in case of an internal fault. A maintenance bypass is also available as standard for easy maintenance of the UPS without powering down critical systems.
Make your installation more flexible with a combo input (3:1 and 1:1) on the 10kVA, 15kVA, and 20kVA
Extend runtime as you like by adding up to 4 external battery modules (EBM). For extra-long runtime, XL models with internal supercharger are also available at 10kVA and 20kVA.
Eaton 9E 10kVA 1:1 and 3:1
General

Topology Online double conversion
Configuration Tower
Product Name 9E10Ki
Part Number 9105-32343

Rating (VA/Watts) 10000/8000
Dimensions (H x W x D, mm) 708.5 x 262.4 x 612.9
Weight (kg) 85.4

Warranty 3 years


Electrical Input

Connection
Hardwired - see manual for terminal block layout

Input Voltage Range 176-276V without derating (up to 110-276V with derating)
Nominal Voltage 220/230/240V
Frequency 50/60 Hz autoselection
Frequency Range 45-66 Hz
Short Circuit Current 137 A


Electrical Output

Voltages 220V/230V/240V ±2 %
Voltage THD <3%

Outlets
Hardwired - see manual for terminal block layout

Overload Capacity 105%-110% : 5min, 110%-130% : 1min, 130%-150% : 10s, >150% : 100ms
Efficiency (Normal Mode) Up to 93% in Online mode, 97% in ECO mode
Output Frequency 50/60 Hz autoselect


Communications

Communication Ports 1 USB port + 1 RS232 serial port (USB and RS232 ports cannot be used simultaneously)
Communication Slot 1 slot for Network-M2, ModBus-MS or Relay-MS cards
Power Management Software Intelligent Power Software


Environmental & Standards

Audible Noise <55dB
Operating Temperature 0 to 40°C
Safety markings IEC/EN 62040-1
EMC Markings IEC/EN 62040 -2
Approvals CE, CB report (TUV)


** In the interests of continuous product improvement all specifications are subject to change without notice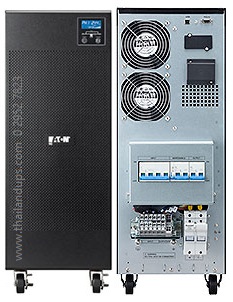 เครื่องสำรองไฟ Eaton 9E10ki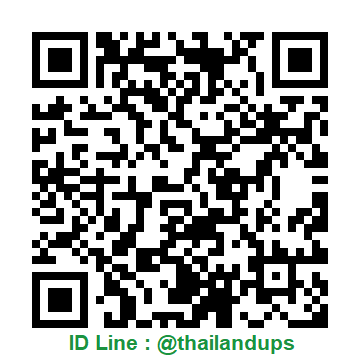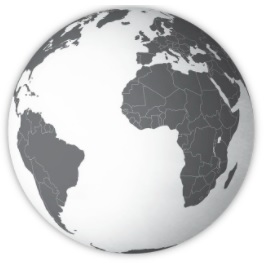 ThailandUPS.com
ffice hours : 8:30 - 17:30 ( Monday - Friday )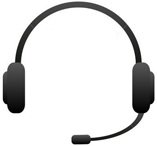 Tel 0 2952 7823
ระบบไฟเป็นได้ทั้ง เข้า 1 ออก 1 หรือ เข้า 3 ออก 1 สามารถเลือกได้