Cyberpower BU1000EA

GENERAL
Phase Single Phase
Form Factor Desktop
UPS Topology Line-interactive
INPUT
Generator Compatibility Yes
Nominal Input Voltage ( Vac ) 230 ± 10%
Input Voltage Range ( Vac ) 165 ~ 280
Input Frequency ( Hz ) 50 ± 5, 60 ± 5
Input Frequency Detection Auto-sensing
Rated Input Current ( A ) 4.55
Input Connector Type NEMA 5-15P

Power Cord Length (m.) 1.2
OUTPUT

Capacity (VA) 1000
Capacity (Watts) 630
On Battery Waveform Simulated Sine Wave

On Battery Voltage(s) ( Vac ) 230 ± 10%
On Battery Frequency ( Hz )50 ± 1%, 60 ± 1%
Automatic Voltage Regulation (AVR) Single Boost, Single Buck
Overload Protection fuse
Outlet(s) - Total 4
Outlet Type AS x 4

Outlet(s) - Battery & Surge Protected 4
Typical Transfer Time ( ms ) 4





CyberPower BU1000EA
provides home and office users with a reliable battery backup and safeguards office PCs and other electronic devices from surges, spikes, brownouts and other power irregularities. The product adopts line-interactive topology with Automatic Voltage Regulation (AVR) function to offer stabilized AC power output.

The patented GreenPower UPS™ Bypass design achieves ultra-low power consumption to reduce energy costs, and allows a lower operation temperature which extends battery lifespan. Configurable alarm allows users to switch the audible alarm on or off during battery mode to avoid unnecessary disturbances. Its desktop design allows users to place it easily on desks or other tight spaces.


FEATURES

Energy Saving Technology
Generator Compatible
Overload Protection
Wall Mount Installation
Configurable Alarm

Automatic Voltage Regulation (AVR)
LED Status Indicator
Surge and Spike Protection
EMI and RFI Filtration


WHAT'S IN THE BOX

BU1000EA UPS, User's Manual


* Product contents may vary according to different regions. For detailed information, please refer to user's manual/quick start guide.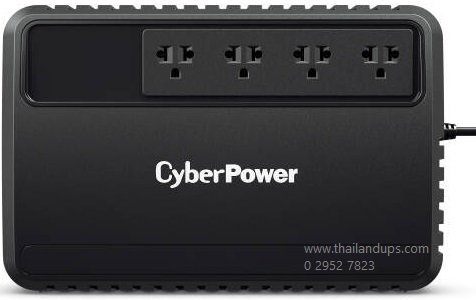 BATTERY
Runtime at 60W ( min ) 74
Runtime at 90W ( min ) 45
Typical Recharge Time ( Hours ) 8
Start On Battery Yes
User-replaceable No
Battery Type Sealed Lead-acid
SURGE PROTECTION & FILTERING
Surge Suppression ( Joules )125
EMI/RFI Filtration Yes
MANAGEMENT & COMMUNICATIONS
LED Indicators : Power On, Line Mode, Battery Mode, Low Battery
Audible Alarms Battery Mode, Low Battery, Overload, UPS Fault
PHYSICAL
Enclosure Construction Plastic
Color Black
PHYSICAL SIZE - Dimensions (WxHxD) (mm.) 190 x 110.5 x 290
Weight (kg.) 6.9
ENVIRONMENTAL
Operating Temperature (°C) 0 ~ 40
Operating Relative Humidity (Non-condensing) ( % ) 0 ~ 90
Storage Temperature (°C) -20 ~ 50
Storage Relative Humidity (Non-condensing) ( % ) 0 ~ 90
Storage Elevation ( feet/meters ) 0-9,843 feet (0-3,000 meters)
Online Thermal Dissipation ( BTU/hr ) 45
Audible Noise at 1.5M from Surface of Unit ( dBA ) 40
CERTIFICATIONS CE, RoHS Yes
2 years warranty - onsite service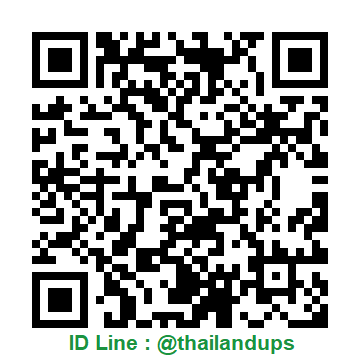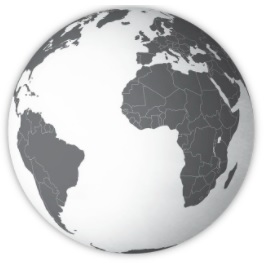 ThailandUPS.com
ffice hours : 8:30 - 17:30 ( Monday - Friday )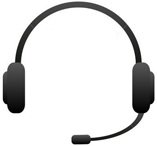 Tel 0 2952 7823